2010 News Archive
Dec 26, 2010
GCER Fellows acknowledged in Nobel Summary.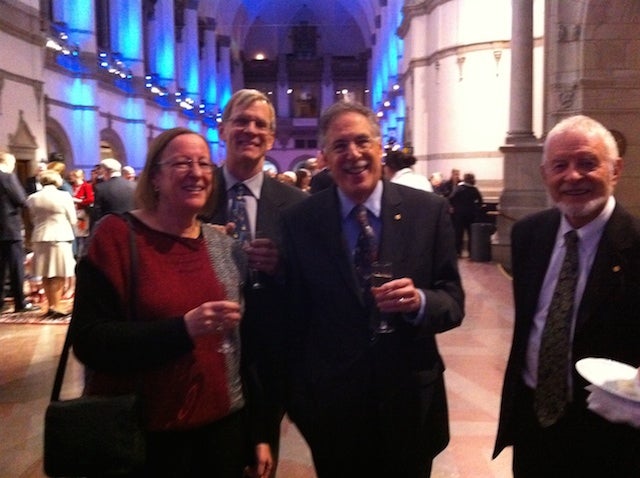 Congratulations to the four GCER Fellows cited in this year's Nobel summary, MARKETS WITH SEARCH FRICTIONS. James Albrecht, Axel Anderson, Susan Vroman, and Mark Huggett were all cited for work related to this year's Nobel recipients, Peter Diamond, Dale Mortensen, and Christopher Pissarides. Albrecht and Vroman were invited to attend the Nobel ceremony in Sweden in December. At right they are pictured at the ceremony with Peter Diamond and past Nobel recipient Daniel McFadden.
---
September 28, 2010
GCER's Arik Levinson joins the CEA.

Arik Levinson signs on to work for the President's Council of Economic Advisors. He will serve as the CEA's economic advisor for environmental policy.
---
Sep 20, 2010
Anderlini & Felli Propose Systemic Vulnerability Index


How should the vulnerability of different securities to "systemic risk" be assessed? GCER's Luca Anderlini (right) and LSE's Leonardo Felli propose a simple measure in a recent article in Vox.
---
Sep 10, 2010
Chairman Vella Introduces GCER

Greetings from the Chair. Welcome to the Georgetown Center for Economic Research (GCER), the newly established research institute housed within the Department of Economics at Georgetown University. GCER is set up to support the Department in its efforts to fulfill its core research and instructional mission for the University. Its primary goal is to foster an environment of open and rigorous scientific inquiry into current economic policy issues and problems. We think you'll find our programs and research interesting and innovative. More about GCER's mission can be found on About GCER, or scan our activities from the menus.
---